What is Australia's national flower?
Throughout September, gardens across Australia turn yellow in a sea of golden hues with Australia's national flower – the Golden Wattle.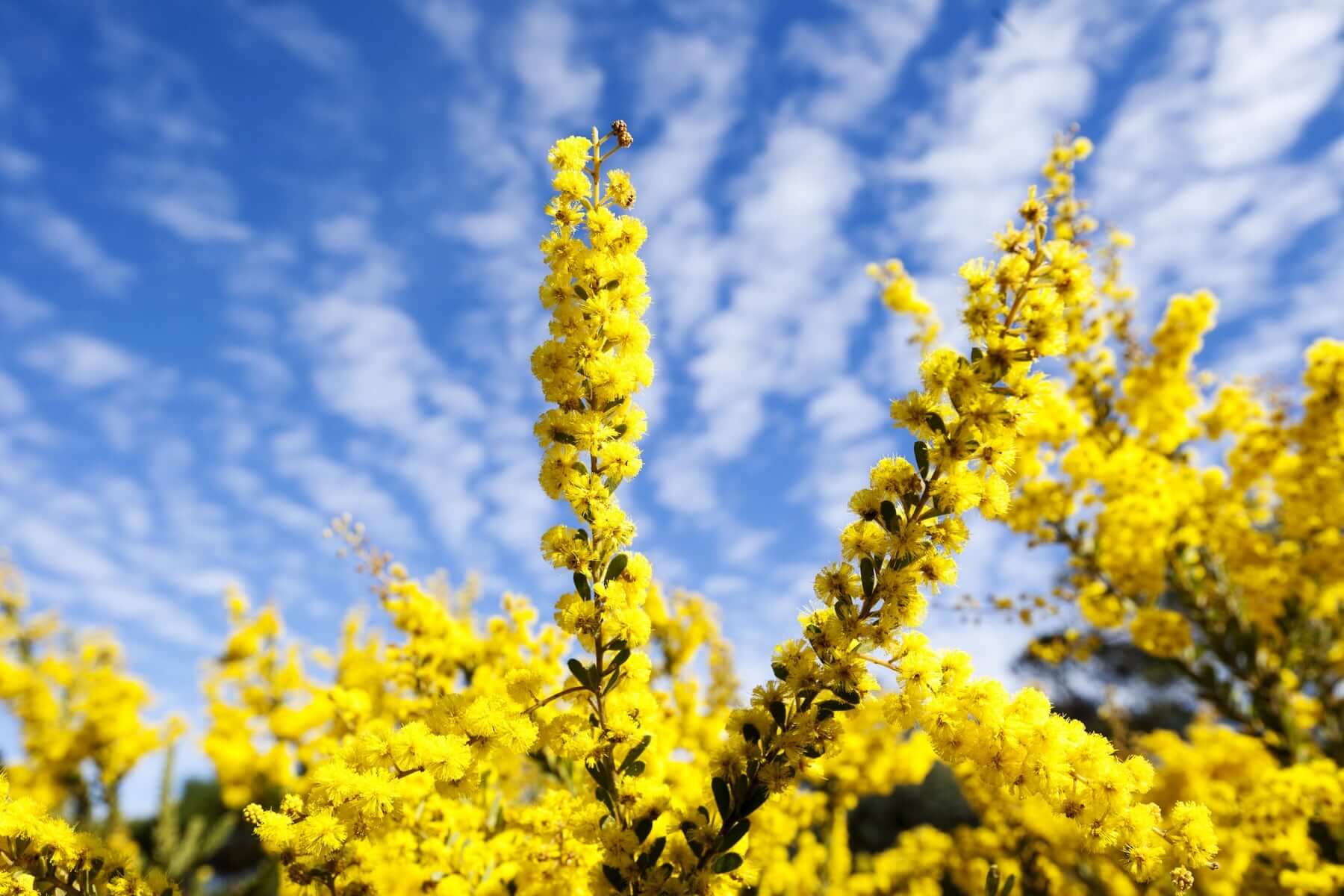 Wattles are well recognised for their large fluffy, bright yellow, sweet smelling heads almost hidden by long stamens, arranged in dense rounded or elongated clusters.
There are over 1300 Acacias worldwide with 960 of these being native to Australia, the most notable of them all being the Golden Wattle.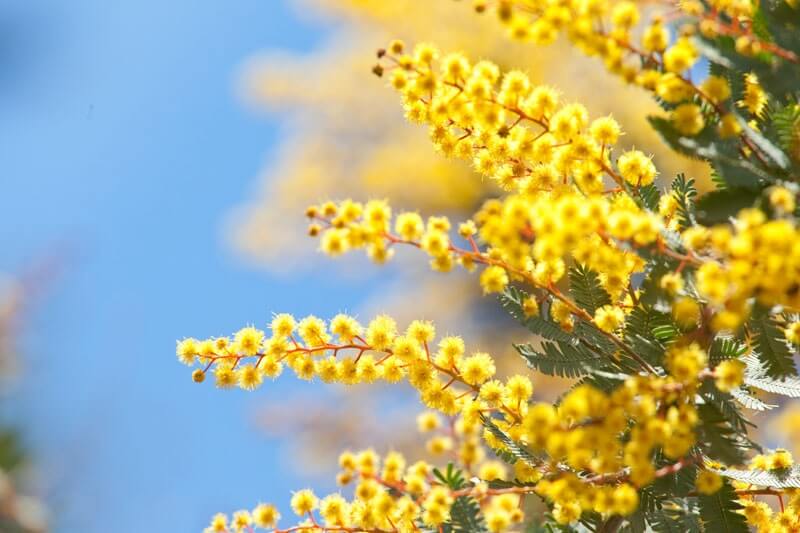 Acacia origins
Acacia commonly known as mimosa, acacia, thorntree or wattle, is a polyphyletic genus of shrubs and trees belonging to the subfamily Mimosoideae of the family Fabaceae (the pea family). The Acacia trees are iconic to both Australia and Africa and with the first species described by the Swedish botanist Carl Linnaeus in 1773 based on the African species Acacia nilotica (now Vachellia nilotica). Wattle shrubs and plants vary in size ranging from 4-8 m and grow well in hotter and drier climates. Found growing all over Australia the most well recognised species is probably Australia's floral emblem, the Golden Wattle (Acacia pycnantha). Prostrate forms of wattles, such as the Cootamundra wattle (Acacia baileyana) are wonderful additions to the home garden especially when space is limited but there is a wattle for almost every landscape application. Why not pop in to our Visitor Centre and buy a wattle or one of the other species carefully propagated by our Growing Friends so you too can grow your own botanic garden.
Where to see them in Sydney
The Australian Botanic Garden Mount Annan in western Sydney is Australia's largest botanic garden and specialises in growing and showcasing Australian native flora. The Garden features 260+ species of Acacia (wattles) in the dedicated Wattle Garden spread over 36,000 m2. There are many more wattles to be found throughout the garden. During August and September is peak flowering but some wattle species flower throughout the year. Check the Wattle Garden location in the Garden.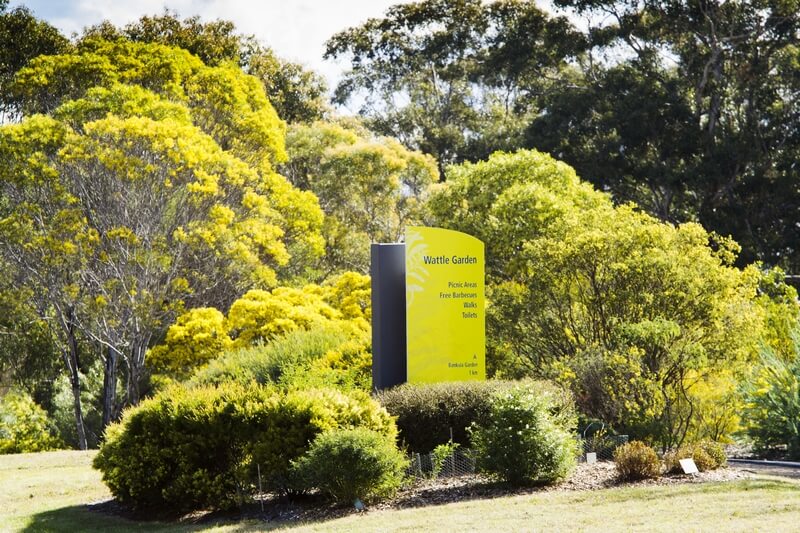 Conserving Wattle species
The Australian Institute of Botanical Science is working to keep Wattle populations thriving in nature, utilising both the National Herbarium of NSW and the Australian Plantbank at Mount Annan.
The National Herbarium of NSW holds over 45,283 Acacia herbarium specimens, representing 1,096 unique Acacia species from Australia and elsewhere. Scientists use the Herbarium's collection to help inform conservation actions.
Next door to the Herbarium is the Australian PlantBank, the largest native seed bank in Australia. PlantBank collects, stores and studies viable seeds or live tissue specimens of plant species in Australia, to help protect them from extinction. The PlantBank currently holds nearly 3 million seeds from 492 Acacia species. This bank of genetic material helps to future-proof wild populations.
Next time you visit the Australian Botanic Garden, try and spot the sculpture of Acacia pollen just outside the Herbarium. You can't miss it!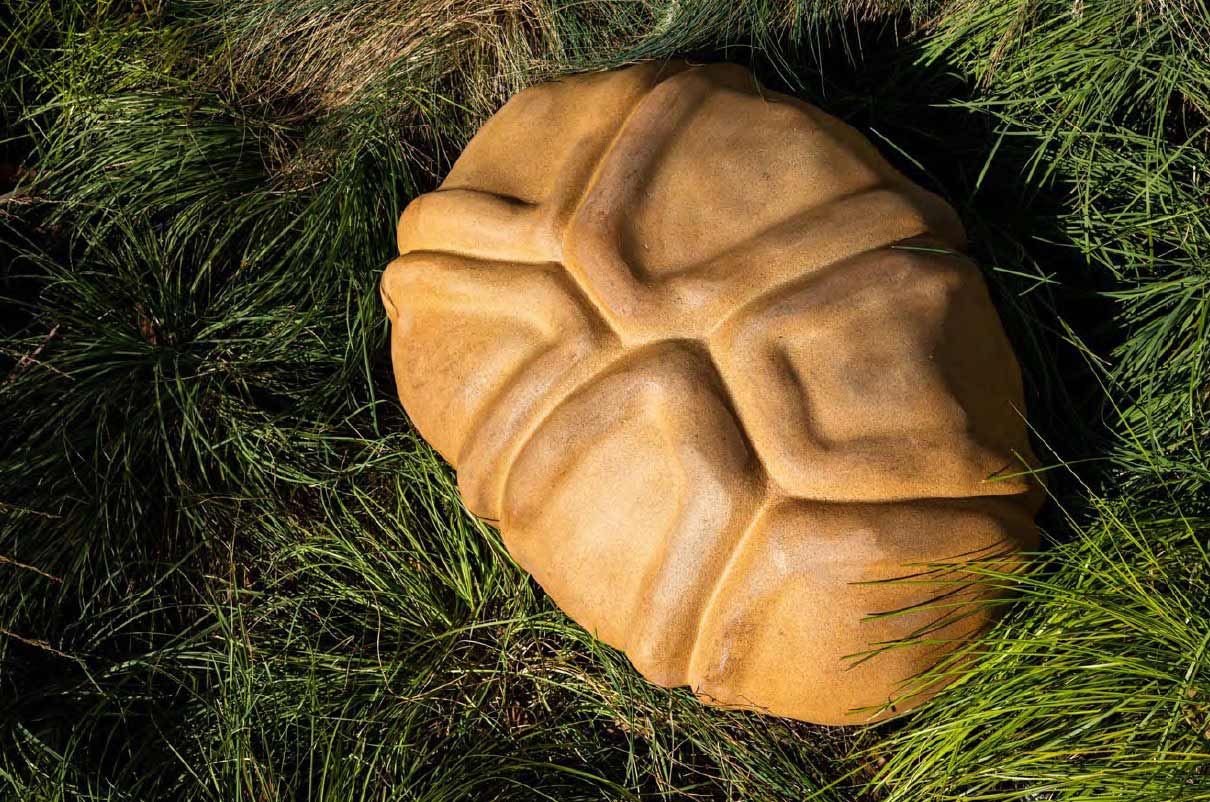 The sandstone sculpture represents a cluster of Acacia pollen grains called a polyad.
Not just a pretty yellow plant
In Australia today, wattles are more commonly used for garden plantings, but they have healed and sustained Aboriginal and colonial Australians in many fascinating ways and were used by the early settlers to make wattle and daub huts.
Over one hundred wattle species were used by different Aboriginal groups for food, medicine, tools and weapons.
The wattle is a special native to us as Acacia pycnantha, the golden wattle, is the national emblem of Australia and has been a culturally important plant for Aboriginal people for far longer.

JOHN SIEMON, CURATOR MANAGER OF THE AUSTRALIAN BOTANIC GARDEN MOUNT ANNAN
Their seeds were collected and ground into a flour to be eaten as a paste or cooked on hot ash as a damper. The medicinal properties of some acacias were used to treat headache, skin ailments, aches and pains, infections, rheumatism, colds and toothache. A multipurpose group indeed!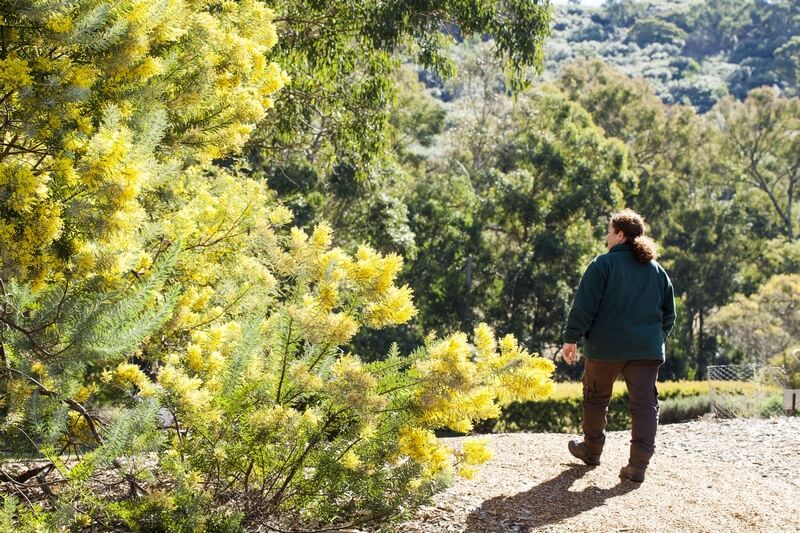 Wattles are more than just a pretty flower. Did you know…
The Golden Wattle, Acacia pycnantha, is native to Australia's Capital territory, Canberra, making it obvious choice for the national floral emblem but is also found growing in New South Wales, Victoria, Tasmania and Western Australia.
​The Golden Wattle produces some of the most fragrant flowers which are used in making perfumes, bath herbs, and potpourris.
Wattles come in many shapes and sizes from groundcovers to large trees. There is one for every garden in Australia.
Celebrate National Wattle Day
Thursday 1 September is National Wattle Day and is a fantastic opportunity to visit the Australian Botanic Garden Mount Annan to see these wonderful plants in bloom.    Stop past the Visitor Information Centre to get some friendly planting pointers, visit the beautiful Wattle Garden filled with a sea of beautiful wattle-lined paths or take a guided PlantBank tour to witness where all the seed magic happens.