The Palm Grove
Resembling a tropical jungle, the Palm Grove has long been a place where visitors come to cool down and admire the diversity of the plant family (Arecaceae), which produces not only the coconut and date, but the largest seeds and leaves in the plant kingdom.

Come into the Palm Grove to be amazed and awe-inspired by the shapes, textures and sheer scale of these wonders of the plant world.
History comes to life in the Palm Grove
Located in the second oldest part of our garden, palms were first planted here in 1862 by our longest serving director, Charles Moore (1848-96). Prior to this, the area was known as the experimental garden and was the location of trial plantings of the newly discovered Australian rainforest trees and the first grape vines introduced to the colony.
The grapes are long gone, grubbed out in the 1850s, but many of the magnificent old rainforest trees survive. These include the Weeping Lillypilly (Waterhousea floribunda), Hoop Pine (Araucaria cunninghamii) and Yellow wood (Flindersia xanthoxyla). These specimens were collected by Charles Fraser, the Garden's first superintendent and the explorer and King's botanist, Alan Cunningham at Brisbane River, Queensland in 1824. Cunningham later went on to be the Garden's superintendent.
Gaze in wonder at the tallest plants in the garden
Our collection of palms has recently grown to over 300 species, with new plantings of rare examples from Madagascar and New Caledonia, along with small groves of Australian fan palms (Licuala ramsayii). Towering above these new plantings are venerable examples of Australian palms such as; Bangalows (Archontophoenix cunninghamiana), Kentia or Parlour palms from Lord Howe Island (Howea forsteriana and belmoreana), and local Cabbage Tree palms (Livistona australis).
Be on the lookout for the striking red fronds of the Flamethrower palm (Chambeyronia macrocarpa), the shaggy trunk of the Old Man Palm (Coccothrinax crinita) and the statuesque Royal Palms (Roystonea oleraceae).
In the Palm Grove you will also find the tallest tree in the gardens, a Queensland Kauri Pine (Agathis robusta, 1853), our oldest Dragon's Blood Tree (Dracaena draco, 1862), fattest Elephant Foot or Ponytail plant (Beaucarnea recurvata) and magnificent examples of ancient cycads from Australia and South Africa.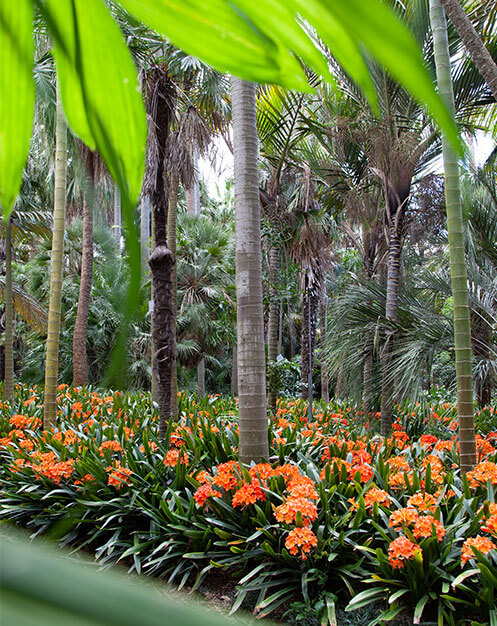 The Palm Grove provides the perfect place to cool down.
Daranggara or Cabbage Tree Palms (Livistona australis), grew on Cadi and were an important plant to the Cadigal, the traditional owners and custodians of the Royal Botanic Garden Sydney site.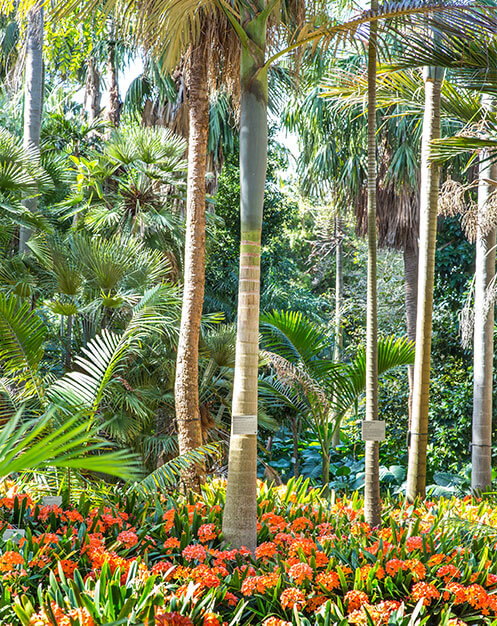 In mid-September each year, the Palm Grove becomes a blaze of orange as the Natal Lilies bordering the garden beds burst into flower.