Major events in The Domain
Known as Sydney's centre stage, The Domain offers four distinct precincts capable of hosting large-scale music concerts, sporting events and community festivals.

These picturesque, harbourside venues offer event producers a unique and inspiring space to deliver events and attract audiences to beautiful open green spaces surrounded by the harbour and city landscape. 
Iconic areas of the Domain are available for outdoor public events and play host to a diverse range of events including open air cinema, concerts, unique outdoor harbourside theatre, sports and lifestyle events and festivals. The Domain is made up of four precincts - the Phillip Precinct, Yurong Precinct, Tarpeian Precinct and Crescent Precinct.
Our events and venues team works with world-leading event organisers and promoters to help realise their creative vision and maximise the unique opportunities that exist in the outdoor event marketplace. Our experienced team provide a comprehensive service, from event concept development, to advice on planning, stakeholder engagement and successful operational delivery.
The Botanic Gardens of Sydney is proud to manage one of the most iconic outdoor spaces in Sydney, helping event producers stage events that are sustainable and offer diversity to our annual events program as well as delivering to the local community.
The Domain's Four Main Precincts
Phillip Precinct - commonly known as 'The Domain' 
The Phillip Precinct commonly referred to as the Domain, is the largest open space in the central business district. This historic site is suitable for large concerts, festivals, sporting events and community-related activities.  

Midnight Oil, image credit Robert Hambling
Yurong Precinct - includes Fleet Steps & Mrs Macquaries Point
The Yurong Precinct includes areas such as Fleet Steps, Mrs Macquaries Point and Mrs Macquaries Road. The Yurong Precinct offers unsurpassed panoramic views of the Sydney Opera House, Sydney Harbour Bridge, Royal Botanic Garden Sydney, Farm Cove and the city's central business district skyline.
The Yurong Precinct is ideal for outdoor public events and incorporates the world renowned backdrop of Sydney's favourite tourism destinations.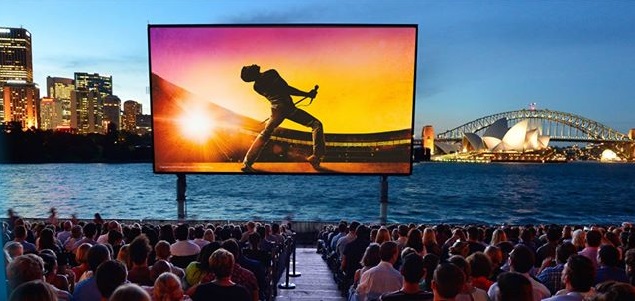 Westpac OpenAir
Tarpeian Precinct
The Tarpeian Precinct is an elongated open space adjacent to the Royal Botanic Garden Sydney and Macquarie Street. The precinct offers stunning views of the Sydney Harbour Bridge, Sydney Opera House and Sydney Harbour.
The Tarpeian Precinct is ideal for smaller passive outdoor public event activities that do not require amplified sound and that may benefit from close proximity to Sydney's central business district.
Crescent Precinct
The Crescent Precinct consists of expansive lawns from the eastern side of Art Gallery Road to the top of the Domain Car Park. The precinct is centrally located to Sydney's central business district and public transport options.
The Crescent Precinct is most suitable for sporting events.